Antalas make you love me "Grüffelo" *22.06.2017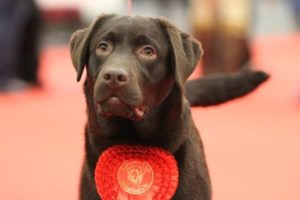 Anders als sein Namensvetter, der echte Grüffelo, ist unser Grüffelo schön anzusehen. Sein Zuchtbuchname "Make you love me" ist schon eher Programm:
Er liebt alle Menschen und hält mit seiner Zuneigung nicht hinter dem Berg. Dabei ist er nie grob oder aufdringlich: Er schmust sich an fremde Beine, verteilt zarte Küsschen und spätestens, wenn man die Hände in seinem unfassbar dichten Labradorpelz versenkt, ist es um jeden geschehen.
To know him is to love him.
Different from the real Gruffelo, our Grüffelo is eyecandy. His pedigree name "Make you love me" is totally him though: He loves everybody and doesn't play shy. But he is never rough or intrusive he cuddles softly, shares butterfly kisses and after you put your hands into that unbelievable thick Labrador coat – you will be lost in love.
To know him is to love him.