Antalas make you love me "Grüffelo" *22.06.2017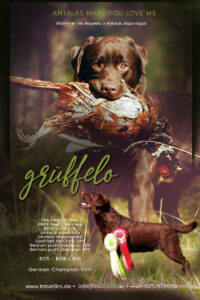 Anders als sein Namensvetter, der echte Grüffelo, ist unser Grüffelo sehr schön anzuschauen. Seine hervorstechende Eigenschaft ist die Begeisterung für seine Menschen. Wir werden ganztägig bestaunt und zart geküsst.
Im Eifer, näher an die Objekte seiner Begierde zu kommen, erklettert er Kennel, Bänke, Tische und strahlt uns, mit seinem mächtigen Schädel auf kopfniveau begeistert an:
"Küsschen!"
Unlike its namesake, the real Grüffelo, our Grüffelo is very beautiful to look at. His outstanding characteristic is the enthusiasm for his people. We are admired all day long and kissed tenderly. In his eagerness to get closer to the objects of his desire, he climbs kennels, benches, tables and lights up at head level with his mighty skull: "Kisses!