Tjotte´s Son O´A Bubble "Tomtom" *19.11.2006 – 2.9.2017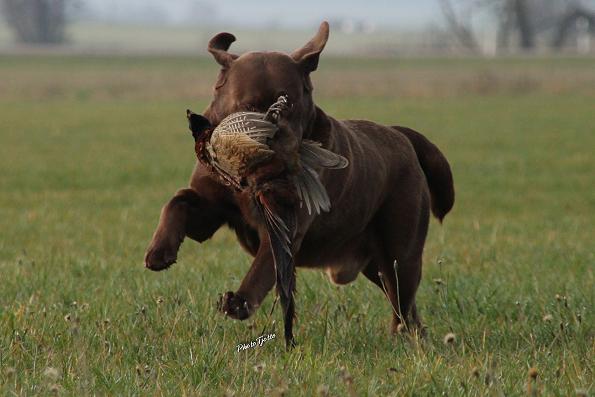 Keine Sekunde.
Keine einzelne Sekunde gab es, in der wir nicht stolz waren auf diesen Hund.
Tomtom war der netteste Hund, den man sich vorstellen konnte.
Geboren um es recht zu machen.
Geduldig hörte er sich in seinem Schuljob die immer gleichen Olchi-Geschichten an
und machte so viele Kinder glücklich, wenn er, groß wie ein Löwe, an lockerer Leine neben ihnen hertrabte.
Bei der jagdlichen Arbeit zeigte der sanfte Riese, was noch in ihm steckte:
Auf der Schleppe donnerte er hinaus dass die Erde bebte, im Wasser schob er eine Bugwelle vor sich her, wie ein Schiff beim Stapellauf.
Wenn er dagegen in seinem eleganten Trab über die Felder schwebte, wirkte er – zufrieden und der Welt entrückt – wie ein Fabelhund:
Fast zu schön um wahr zu sein.
Ausser schönen Erinnerungen bleibt uns sein schönstes "Geschenk":
Travellins Cherokee Rose – Miss Kitty.
No second.
There was not a single second in which we were not proud of this dog.
Tomtom was the nicest dog imaginable.
Born to do it right. Patiently, he listened to the same Olchi stories in his school job and made so many children happy, when, as big as a lion, he trot on a loose leash beside them.
In the hunting work, the gentle giant showed what was still in him:
On the trail, he thundered out that the earth quaked, in the water he pushed a bow wave in front of him, like a ship at launch.
On the other hand, when he floated across the fields in his elegant trot, he looked – satisfied and withdrawn from the world – like a fabulous dog:
Almost too good to be true.
Except beautiful memories remains his best legacy:
Travellins Cherokee Rose – Miss Kitty.