Tjotte's Hashtag Travellins "TinTin" *9.10.2019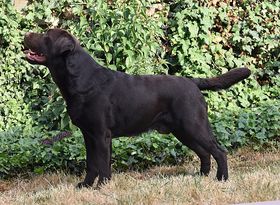 Tintin erobert alle Herzen im Sturm – er ist die größte Schmusekatze, die uns je in Gestalt eines Labradors begegnet ist. Er liebt die Arbeit mit den Kindern in der Schule und möchte so gerne der große Freund sein. Ganz labradortypisch ist ihm kein Wasser ist zu tief oder zu kalt. Sein Baderekord: -9°C im Fließgewässer.
Tintin takes everyone's hearts by storm – he's the biggest cuddly cat we've ever met in the form of a labrador. He loves working with children at school and always wants to be their big friend. Typical for a Labrador, no water is too deep or too cold for him. His record: -9°C in running water.