Travellins Bull Rider "Bruno" *09.05.2009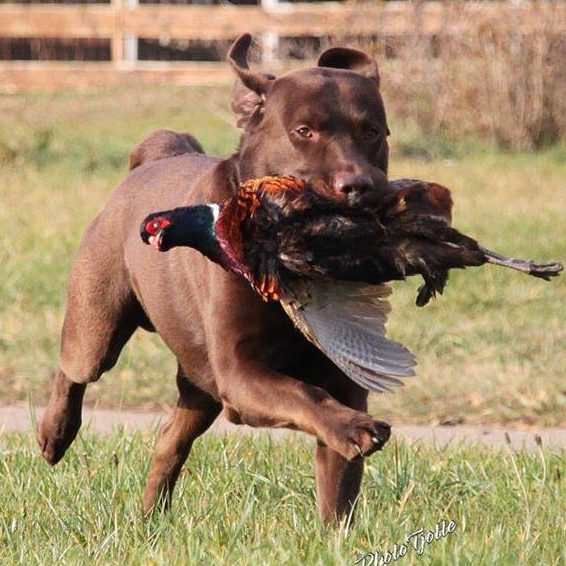 Bruno war der freundlichste Hund, den man sich vorstellen kann.
Noch als prächtiger, ausgewachsener Rüde schleppte er Gasthunden seine Spielzeugsammlung an und warf sie ab:
"Schau, damit kannst du spielen, brauche ich gar nicht."
Nicht nur von Hunden, auch von Menschen war Bruno labradortypisch begeistert – wen zuerst küssen, begrüßen, bespielen?
Der Star auf jedem Kindergeburtstag.
Wie sein Vater Tomtom hatte er Spaß am artig sein und hat tatsächlich selbst als Welpe nie etwas kaputt gemacht.
Bruno lebte mit seiner Familie in Waghäusel und wurde dort mit soviel Liebe überschüttet und mit viel Sorgfalt gehalten,
dass es für mehrere Hundeleben gereicht hätte.
Trotzdem war dieses, wie immer, viel viel zu kurz.
Bruno was the friendliest dog,
you can imagine.
Even as a magnificent, full-grown male, he lugged his toy collection to guest dogs and threw it towards them:
"Look, you can play with it, I do not need it."
Bruno was not only enthusiastic about dogs. He also loved people – who kiss first, welcome, play? He was the star on every kid's birthday.
Like his father Tomtom, he enjoyed being goody-goody and actually did not break anything even as a puppy.
Bruno lived with his family in Waghäusel and was showered there with so much love and kept with great care,
that it would have been enough for several dog lives.
Nevertheless, this was, as always, much too short.